0
Metropolitan police still institutionally racist
Scotland Yard's black and Asian police officers have made a dramatic intervention on the eve of the 20th anniversary of Stephen Lawrence's death by declaring that the Met is still institutionally racist.
The Metropolitan Black Police Association (BPA), the biggest group representing minority officers in the force, says despite the training and community initiatives put in place over the past two decades, Scotland Yard has failed to tackle the mindset at the heart of failures over Lawrence.
The declaration will dismay senior officers who have fought hard to fight off the institutionally racist label. Before his fall at the height of the phone hacking controversy, the previous commissioner, Sir Paul Stephenson, declared in 2009 that after much hard work the force was no longer institutionally racist.
"The association still believe that the police service is institutionally racist," said the BPA statement. Its chairman, Bevan Powell, added: "Institutional racism is not about labelling individuals racists but rather police practice and procedures that bring about disproportionate outcomes for black and minority ethnic communities and police personnel."
He said close examination of key statistics relating to the race and policing bears that out. "An examination of section 95 data (Criminal Justice Act) provides the supporting empirical evidence to support my assertion."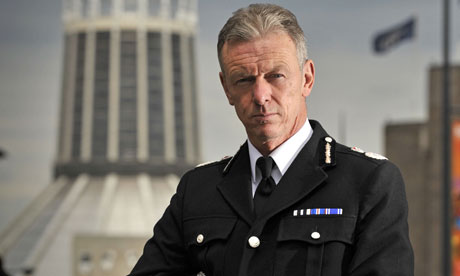 Commissioner Bernard Hogan-Howe regrets the Met's lack of desire to effect change. Photograph: Bruce Adams/Rex Features/Daily Mail
The harsh judgement will dismay the current commissioner, Bernard Hogan-Howe. Last week, asked on ITV Tonight if his force was institutionally racist, he said: "I hope not. I don't think it's for me to judge. It seems to me that the judgment of the public is the strongest judgment. If they think we are, then we are.
"I think there is lots of evidence to say it isn't true and that we're actually doing a pretty good job and we are improving all the time."
The BPA, which has 500 members in London, says the Met has failed to recruit enough minorities to reflect the capital's population. "The 2011 census indicated that over 40% of Londoners were from BME backgrounds, whilst only 10% of MPS police officers were from BME communities.
"These officers disproportionately hug the lower ranks, face significantly slower rates of career progression and are over-represented in disciplinary actions, in comparison to their white counterparts. This current position is unsustainable, as it severely impacts on police legitimacy and more importantly erodes trust and confidence in BME communities."
Superintendent Leroy Logan, chair of the Met BPA charitable trust, said before the force could consider itself free of institutional racism, it must tackle the continuing disproportions in the treatment of minority Londoners.
"The real litmus test is still the vexed issue of stop and search and its disproportionality in black and minority ethnic (BME) communities, because so many people perceive that the police are involved in racial profiling?"
He acknowledged that Hogan-Howe, had tried to address the issues of racism within police culture, but said the problem was structural. "The association looks back with a certain amount of disappointment and concern at the lack of long-term commitment, leadership and desire to bring about radical change to significantly deal with institutional racism at the time of Stephen's death."
The issue of institutional racism has been a continually difficult one for Scotland Yard's top tier. At the Macpherson inquiry, Lord Condon, then Met commissioner, was visibly discomforted when Richard Stone, one of Macpherson's advisers, repeatedly pressured him to accept that his force was institutionally racist. Stephenson refused to do so, saying the tag would unfairly brand individual officers.
In the years since, the Met has increased minority recruitment from 2.3% of the force in 1993 to 10.4%. But the minority population of the capital is more than 40%.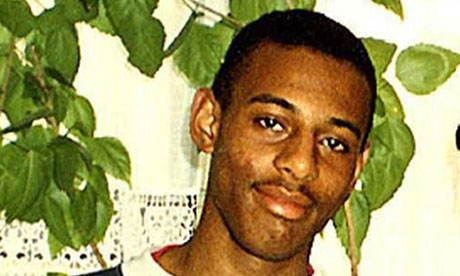 Black and Asian officers say race relations within the Met have continued to falter since Lord Macpherson's inquiry into the death of Stephen Lawrence. Photograph: PA
In January, the commissioner ordered a radical review of stop-and-search policing in London as figures suggest black youths are up to six times more likely to be stopped than white youths.
In operations authorising localised stops under section 60 of the 1994 Public Order Act, minorities are said to be 28 times more likely to be stopped.
Responding on BBC Newsnight last week to criticisms of the force's record, the Met assistant commissioner Simon Byrne said the force was working successfully to address those disproportions but admitted there was a long way to go.
He said: "The experience of Stephen's family has had a profound impact on policing in the UK. It has transformed the way we deal with murder, our family liaison and the investigation of hate crime.
"The Metropolitan police is a very different organisation to the one it was at the time of Stephen's death but we know there is more work to be done to improve our service to Londoners from a black and minority ethnic background. The commissioner recently said he was an 'implacable enemy of racism' and the Met is committed to challenging and driving out any racism in its ranks."
 PC Michael Wallace sees things differently on video. 
Cuts 'could hit BME recruitment'
Large budget cuts to policing in the next Comprehensive Spending Review (CSR) would make recruiting more Black and Minority Ethnic (BME) officers difficult, a chief constable has said.
Speaking on the 20th anniversary of the murder of black teenager Stephen Lawrence, Alf Hitchcock, who leads on diversity for the Association of Chief Police Officers (ACPO), said it was "a myth" that BME applicants did not want to join the service. He added that there were many from this group ready to take on the powers of a regular warranted officer within his Force - Bedfordshire Police - including PCSOs, cadets, special constables and police staff.
The Stephen Lawrence Inquiry Report into the teenager's murder said the Metropolitan Police's "institutional racism" played a role in the failure to deal with the case effectively and recommended that the Police Service increase its proportion of BME officers. Currently only around five per cent of all officers are from the group.
But in an interview with PoliceOracle.com, CC Hitchcock said that if the next CSR entails a significant budget cut to policing, it will rule out large-scale recruiting and make it "really difficult" to change the ethnic makeup of the service.
He said: "If the next round of spending cuts are smaller and we can start recruiting in numbers, there are a lot of PCSOs and special constables from minority backgrounds looking to join.
"We still only have five per cent of total police officers from minority backgrounds but there are a lot more BME representatives among PCSOs and other members of police staff."
Since the current CSR began in 2010, forces have recruited on a small scale, usually only to replace officers who have left.
CC Hitchcock added: "Policing is a 30-year career. When you look at those who are retiring at the moment, who were mostly recruited in the early 1980s, they are predominantly white and male.
"If we recruit long-term in a more balanced way we can become more representative."
CC Hitchcock added there was "a whole debate to be had" on how this could be achieved, claiming there were examples of "positive action" to learn from, including the Police Service of Northern Ireland's policy of recruiting 50 per cent of its trainees from Catholic backgrounds. This policy was introduced after the Royal Ulster Constabulary, the predecessor force, came to be dominated by officers from Protestant communities.
The lack of BME officers has led the National Black Police Association (NBPA) to support direct entry for the inspector and superintendent ranks, in the hope it boosts recruitment from the group.
NBPA President Charles Crichlow said: "It is unacceptable that, in the 21st century, less than five per cent of police officers in England and Wales are from BME backgrounds.
"The NBPA believe that the under-representation of BME officers presents a serious threat to modern day policing and the democratic nature of the service."
"We support the concept of direct entry but with one caveat.
"It must bring about greater ethnic diversity and new thinking at the senior ranks within the police."
http://www.policeora...ment_64024.html
Source: The Guardian
Source URL: http://www.guardian.co.uk/uk/2013/apr/21/metropolitan-police-institutionally-racist-black
Article: Metropolitan police still institutionally racist